04 Apr

1. Export to and import from other formats
Export
Export current project to the following formats used worldwide to exchange project's data.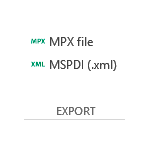 .MPX format. Used frequently to export MS Project data into other system.
.XML or so called MSPDI format. (MS Project can save project as .xml and that is initially MSPDI format )
Import
Imports project data to MS project from following formats.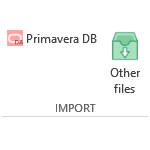 Primavera DB. Read data directly from Primavera Database. format. Opens Primavera DB connection wizard to access and choose project you would like to load from.
.Other files . Allow to load data from the following project management systems:

Synchro Scheduler (.sp),
Asta Powerproject, (.pp)
Primavera P3, Primavera SureTrak (.xer, .prx) ,
TurboProject (.pep),
ProjectLibre (.pod),
FastTrack Schedule (.fts),
GanttProject (.gan),
Phoenix Project (.ppx),
ConceptDraw PROJECT (.cdpx) ,
Microsoft Access database ( .mpd),
Gantt Designer (.gnt),
SDEF (.sdef).
MPX, MSPDI formats above