01 Apr

2.1. Settings
'Extras' group
Group of CP-Tools contains Construction Project environment settings, related tools, guides, helps e.t.c
– Show customer feedback form to inform us if something goes wrong.
– Show list MS Project fields reserved by Construction Project when C-type project is processed. For typical project it is not applicable and all fields are free to use
Settings

Settings button shows Construction Project core system settings. Root folder on form bottom points to CP-folder structure with settings and other data. CP saves Root folder path in windows registry. Thus, if your uninstall and reinstall CP the configuration recovers (assuming that Root folder structure was not deleted). It is easy to switch between different CP configurations by changing Root folder.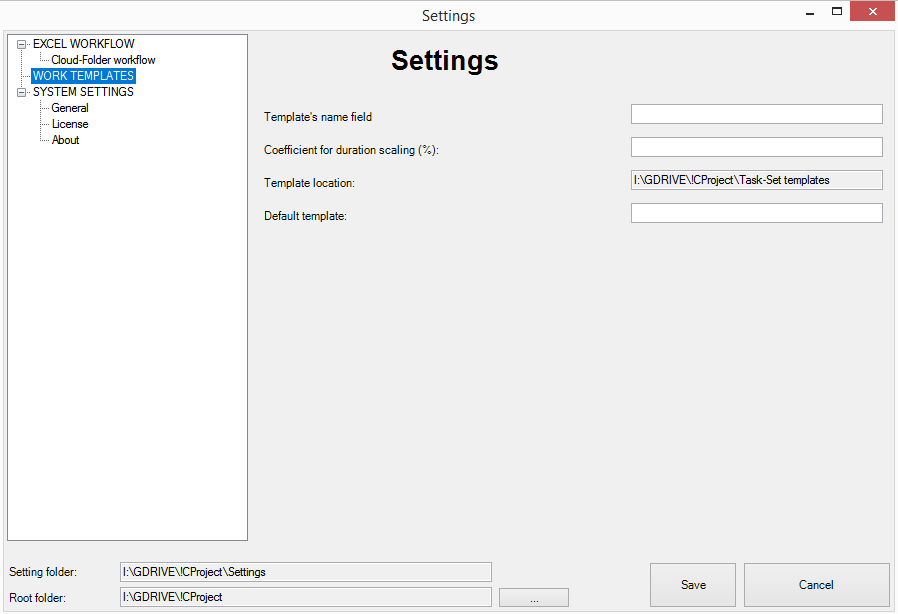 The following is a description for all parameters in settings groups.
EXCEL WORKFLOW
Cloud-Folder workflow
Exchange root folder
ExForm root exchange folder specifies where all Exchange Forms is being processed. By default -'Users' folder
Allow to import ExForms with 'Ready to import status only'
If set ExForm Designer checks 'ready to import status' before loading data
WORK TEMPLATES
Template name field
Specify Text field name used to store .mpt template name from which tasks being loaded. Can be name or alias of text or outline code MS Project field. See details
Template location
Templates location folder. Place where templates have to be stored.
Default template
Template which is used by default if no template specified by template name field.
GENERAL
Log Path
Log file path where operational activities are saved.
Show log on ribbon
If check log icon shown on CP-Tools ribbon tab
LICENSE
Activation request
Open License Manager.. License requesting, acquiring, activation.
Update license
Forced license update. Check licence online and update if required.
Licence information
Current license details
ABOUT
Construction Project current version number.